X
1882.7 [m]
Douglas Gordon & Morgane Tschiember
As close as you can for as long as it lasts

, 2017
'As close as you can...' is an artwork made using fire, smoke and sound —a call and response between two artists—an oblique reference to the well-known history of yodeling in this particular landscape. Tschiember and Gordon were invited to visit the beautiful but terrifying mountain landscape around Gstaad. To those unfamiliar with this environment it can represent beauty, fear, loneliness and a particular melancholy. Lonely travellers will often seek the companionship of another – the question is whether this relationship—the call and response—is based on desire, fear and excitement of the unknown. Try to get as close as you can to the fire, read the smoke signal—but for Gods sake, don't travel alone!

As a reference to Jack London, Morgane Tschiember decided to build a fire - the only thing that can help to survive in this supernatural environment.
- in response to this Douglas gordon answers by installing a sound piece based on our primal fears - of unknown animals, our fear of the dark, driving us towards the fire of Morgane Tschiember.

No-one wants to travel alone, no-one wants to be alone - but being alone with someone, brings along a whole new set of fears - alone, but together, in the dark, on a mountaintop...

as close as you can, for as long as it lasts.

Saanerslochgrat
Live performance: Friday 3.2., 17h-19h
Video documentation on view at Gstaad railway station waiting room from Monday 6.2.
As close as you can for as long as it lasts, 2017

Morgane Tschiember piece and Sounds by Douglas Gordon.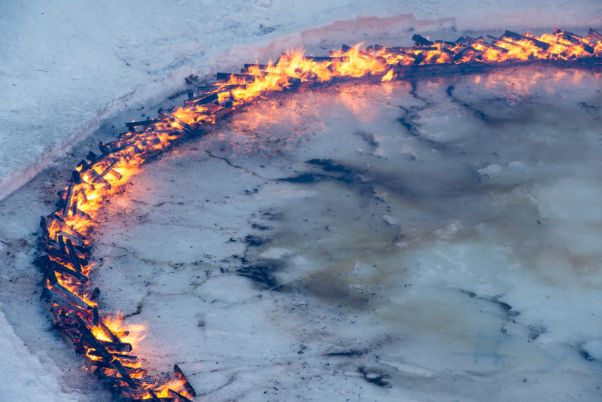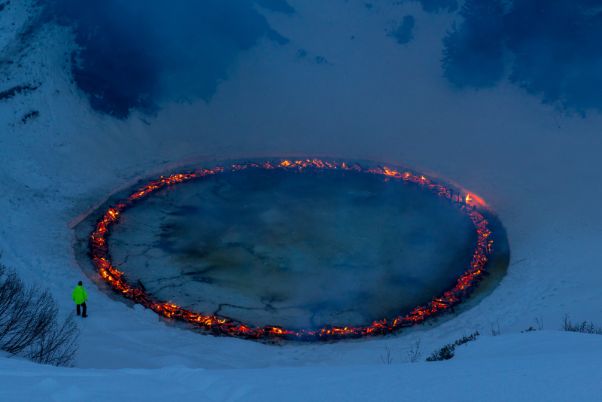 Gordon is a conjurer of collective memory and perceptual surprise whose tools include commodities and mechanisms of everyday life. Into a diverse body of work—which spans narrative video and film, sound, photographic objects, and texts both as site–specific installation and printed media—he infuses a combination of humor and trepidation to recalibrate reactions to the familiar.
Douglas Gordon was born in 1966 in Glasgow, Scotland. From 1984 to 1988, Gordon studied at Glasgow School of Art, Scotland, and from 1988 to 1990, he studied at The Slade School of Art, London. Gordon has had numerous solo exhibitions including ARC Musée d'Art Moderne de la Ville de Paris, France (2000); Deste Foundation for Contemporary Art, Athens (2000); Museu de Serralves, Portugal (2000); Fondacio Joan Miro, Barcelona (2001); MOCA at the Geffen Contemporary, Los Angeles (2001, traveled to Vancouver Art Gallery, Canada; Museo Rufino Tamayo, Mexico City; and Hirshhorn Museum and Sculpture Garden, Washington, D.C., through 2004); Towner Art Gallery and Museum, England (2002); Kunsthaus Bregenz, Austria (2002); Van Abbemuseum, The Netherlands (2003); Museo Tamayo and Instituto Nacionale de Bellas Artes, Mexico (2003); Andy Warhol Museum, Pittsburgh (2003); Rooseum Center for Contemporary Art, Sweden (2003); Deutsche Guggenheim Museum, Berlin (2005); Museo di arte moderna e contemporanea di Trento e Rovereto (MART), Italy (2006); The Museum of Modern Art, New York (2006, traveled to Museo de Arte Latinoamericano de Buenos Aires–Colección Constantini, Buenos Aires); MALBA Colección Costantini, Museo de Arte Latinoamericano de Buenos Aires, Argentina (2007); British School at Rome, Italy (2007, traveled to San Francisco Museum of Modern Art, California); Kunstmuseum Wolfsburg, Germany (2007); La Collection Lambert en Avignon, France (2008); Garage Centre for Contemporary Culture, Moscow (2008); Van Abbe Museum, The Netherlands (2009); The Tate Britain, London (2010); Museum fur Moderne Kunst, Germany (2011); Tel Aviv Museum of Art, Israel (2013); Museum Folkwang, Germany (2013); Musée d'Art Moderne, Paris (2014); Australian Centre for Contemporary Art, Australia (2014); and Museu d'Art Contemporani d'Eivissa, Spain (2015). Gordon's film works have been invited to the Festival de Cannes, Toronto International Film Festival (TIFF); Venice Film Festival; and Edinburgh International Film Festival among many others.
Gordon has received several awards including the Turner Prize, London (1996); Premio 2000, Venice Biennale, Italy (1997); Hugo Boss Prize, Guggenheim Museum SoHo, New York (1998); Roswitha Haftmann Prize, Kunsthaus Zürich, Switzerland (2008); and Käthe–Kollwitz–Preis, Akademie der Künste, Berlin (2012).
Gordon currently lives and works in Berlin, Glasgow, and New York.
Born in 1976, in Brest, Morgane Tschiember was awarded the 'Diplôme National Supérieur d'Expression Plastique (D.N.S.E.P) de Quimper' and then went on to join the École des Beaux arts de Paris, where she got her 'Diplôme National des Arts Plastiques D.N.S.A.P' with 'félicitations du jury (honours) of the E.S.N.A.B.  Shortly after arriving in Paris, in 2002, she received the 'Prix Ricard'. Aged 24 at the time, the Fondation Entreprise Ricard, offered her her first personal exhibition, 'BLASON'. She continued with a series of in situ projects in the city like 'CHAIRS' in 2003 with the support of Agnès B. In 2004, Tschiember worked with Catherine Bastide, in Bruxelles, and Lange et Pult in Switzerland. Tschiember shared her artist's studio with Olivier Mosset for five years. Many exhibitions came from this like 'ZONES ARIDES' at the MOCA, in Arizona, as well as a second part at the Lieu Unique in Nantes in 2007 or again 'FRIENDS' at the Loevenbruck gallery. Since 2007 she has worked with the Loevenbruck gallery in Paris, of which the 'IIRON MAIDEN' exhibition will be most prominent. She hopped over to Austria for 'SUITE FRANCAISE' at the Krinzinger gallery, in Vienna, and then took part in the Biennale de l'Estuaire, in Nantes, France. Mathieu Poirier proposes 'MONOCHROME SOUS TENSION', at the Tornabuoni gallery in 2010. She worked with Fabienne Fulchéri, 'REVES d'ARCHITECTURES' at the Espace de l'art Concret, Mouans-Sartoux, and received the 'Prix Sanofi' in 2012. Morgane flew off, in 2009, to New York, for a year at the International Studio and Curatorial Program (ISCP), and then to Kyoto, Japan to work with Super Window Project, Kyoto, Japan. She recently took up the Nuove//Residency, Nove, Italie, in 2013, directed by Géraldine Blais who invited her to both parts of LADIES AND GENTLEMEN PLEASE MAKE YOUR SELF COMFORTABLE, Itineraries in Carlo Scarpa, Venise, Italie, 2015 and 2016. Tschiember set up in the central hall for the exhibition 'THE OTHER SIGHT', Contemporary Art Center, Vilnius, Lithuania, designed by Julija Cistiakova in 2014 and these Shibaris will be presented at the Musée de design et d'arts appliqués contemporains 'Nirvana. Les étranges formes du plaisir', Lausanne in 2015.' Equally in 2015, The Musée des Beaux arts de Dôle has dedicated a personal exhibition to her, 'TABOO',  as well as the Tracy Williams Gallery in New York. A personal exhibition is currently dedicated to her at the MAC VAL 'Six soleils', Musée d'Art Contemporain du Val de Marne, Vitry-sur-Seine, France.
A number of institutions and foundations keep her work today : le Fond National d'Art Contemporain in Paris, the museum 'Les abattoirs de Toulouse', the Musée des Beaux Arts of Rennes, and that of Dôle, or again of Brest, the 21C Museum collection, Louisville, Kentucky, the Dior collection, Paris, the Collection de la Société générale, Paris or the SACEM, Paris.
Use the scrollbar or your mousewheel to scroll down the map.